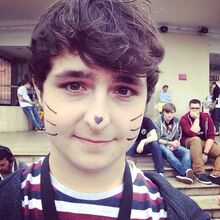 Joel, better known by his online alias SmallishBeans, is a video game commentator on YouTube. SmallishBeans specializes in Let's Play videos of adventure and simulation video game genres. He is best known for Minecraft series, BeanCraft and the fact that he is the husband of LDShadowLady. He also attended Millthorpe School in York.
Personal Life
SmallishBeans has been dating Lizzie, best known by her online alias LDShadowLady since January 2012. In September 2011, the couple first met during a game convention known as GameFEST, where he was performing dancing. Lizzie admired his confidence and thought he was cute so she approached him. unfortunately, at that time he was dating someone else but luckily they still got together. Joel later proposed to Lizzie in November 2017. Joel and Lizzie are now happily married.
Gallery
Main article: SmallishBeans/Gallery
Trivia
His first game on Xbox 360 Online was Gears of War.
He used to spend most of his hours playing World of Warcraft.
He has an obsession with killing chickens.
Social Media
Community content is available under
CC-BY-SA
unless otherwise noted.