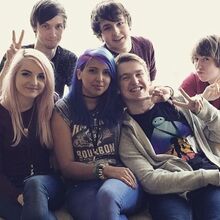 Ldshadowlady aka Elizabeth Dwyer is currently living with her boyfriend Joel and pets Buddy and Meri. She has many YouTube friends, but her main friends are Callum Knight (Seapeekay), Yasmin (Yammyxox), Scott Major (Dangthatsalongname), and Oli Scrub (TheOrionSound).
She was born on October 7th, 1992. She studied computer animation in Liverpool. Her first videos on YouTube, which she uploaded at the end of 2010 and beginning of 2011, featured the game Call of Duty. 
Her sister Maddie runs the YouTube channel Microglitching. She began dating YouTube gamer Joel Smallishbeans, who often appears in a number of her videos. They got engaged in November 2017.
Community content is available under
CC-BY-SA
unless otherwise noted.