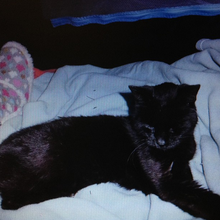 Giggsy[1][2] was LDShadowLady's old childhood cat.
Sadly, While Lizzie was in collage (2010), she discovered that Giggsy had gone missing. She didn't expect it to hit her as hard as it did, and she was really sad. Lizzie said that he was always there, always consistent even with all the changes that happened. When Giggsy did go missing, Lizzie felt like she lost a part of herself and it took a long time to get over.
Around 3 years later, Lizzie found out that Giggsy didn't die, instead the RSPCA found him and took him to his old owner but he had to be put down[3], and because he was microchipped[4], it brought them to his old owner's home instead of Lizzie's.
References
Community content is available under
CC-BY-SA
unless otherwise noted.