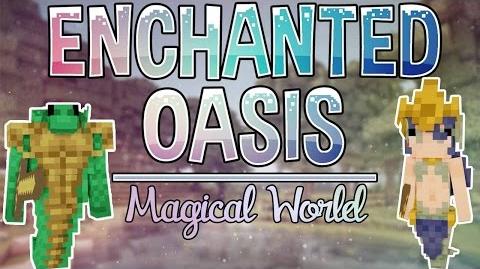 Enchanted Oasis 
is a Minecraft semi-multiplayer series, which premiered on June 29, 2014, created by iHasCupquake, where she explores the magical universe of the Enchanted Oasis, as well as the several Minecraft modifications she had added in, with Vengelfe, MittyMoxx, and 
LDShadowLady
. They meet up in future episodes to take part in events together but are staying solo for the most part.
The first episode of LDShadowLady's perspective of the Enchanted Oasis premiered on July 18, 2014, where Cupquake, Vengelfe and MittyMoxx had appeared as cameo's.
The mod pack was provided by WildBamaBoy & Nova and includes a brand new mod exclusive to the series named "Woodland Creatures." iHasCupquake has stated in the first episode of her perspective that the modification is still in development and will eventually be released to the public. It gives users the ability to add ears, horns and antlers to their character's skin, giving them the appearance of woodland creatures.
The server was provided by CraftNodeHosting who have provided servers to many large YouTube series including SlyFoxHound's "Minecraft Daily."
World
LDShadowLady's Enchanted Oasis world was found after using a time machine to travel back in time to the launch of the series, as she was two weeks late due to the busy schedule she had been having. The world has a very magical feeling to it with a river running through the world and with the support of LDShadowLady's texture pack.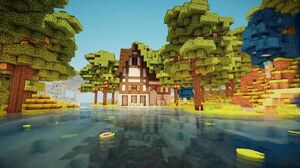 The world has normal vanilla mobs, zombies, creepers, skeletons and spiders, it also has Harpies and Wisps and other dangerous mobs yet to be discovered. There are a few unhostile mobs like the Dryads. The world also includes butterflies which the girls are very obsessed with. It has a lot of new plants and seeds, and new wood types.
House
Like the other three girls, LDShadowLady built her home alongside the river bank. She constructed a cottage-like home, which was mostly made up of wood, white stained clay and stone. Behind her home, LDShadowLady owns a farm that consists a variety of animals.
Characters
iHasCupquake
Vengelfe
Mitty
Gallery
Main Article: Enchanted Oasis/Gallery
Trivia
LDShadowLady was two weeks delayed in filming the first episode of her perspective of the Enchanted Oasis as she had a busy schedule.
LDShadowLady has only went on one adventure with the other girls.

The only adventure LDShadowLady has participated in with the other girls is when they had to embark on a journey to find and defeat the Lich King, which they have done successfully.

iHasCupquake has abruptly ended her perspective after a fifty-three episode run as she had no more interest to continue the series.
Community content is available under
CC-BY-SA
unless otherwise noted.